The equation of wellness
A new instrument able to evaluate in real-time your health
---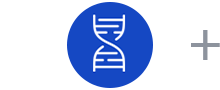 ---
Your Genes
---
Your Microbiota
---
Your Hormones
---
Your Lifestyle
---
You
Choose the most suitable test for you
Choose the most suitable test for you

---
Know Your Genes
---
For healthy people, who want to keep their health
For those suffering from a disease, to learn about the possible genetic causes
For athletes, who want to improve their performance and reduce injuries
---
---

---
Know Your Bacteria
---
Bacteria that live in symbiosis with you affect your health
Your diet can modulate gut microbiota
Assess in real time the effect of recommended treatments
---
---

---
Know Your Hormones
---
Evaluate real-time hormone levels that change during the day
Diet and lifestyle can correct any hormonal imbalances
For sportsmen and workers who want to get the most out of themselves
---
---
Find the professional closest to your house
and choose the most suitable DNA test for You
Contact a professional, perform our tests and build your path to health with him
Are you interested in training and dissemination of our DNA tests?
Medical doctors and Dietitians
Are you a specialist
or a general doctor?
Coaching
Do you work in nutrition field,
wellness or fitness?
B2B
Do you want to develop your business idea
of personalized medicine?
---
What our clients think about us
Thanks to the nutritional training of Sbilanciati and AIDNA genetic tests I changed my diet, improved my body , optimized workouts and achieved excellent results!

Finally I managed to solve the continuous injuries that marked my past: above all muscle strains from which I could never recover. Thanks to the advice of the naturopathy center "Massimo Paris" and to the AiDNA genetic tests I found how to get to make my personal record!

Genetic, microbiota and hormonal tests I took at NEXT Genomics made me understand how to make the most of my physical potential and optimize my diet and training. I felt followed by a serious and professional team.