Equation of wellness
A new instrument able to evaluate in real-time your health
---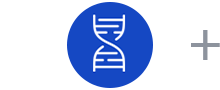 ---
Your Genes
---
Your Microbiota
---
Your Hormones
---
Your Lifestyle
---
You
Choose the most suitable test for you
Choose the most suitable test for you

---
Learn more about your genes
---
For you who are healthy and want to keep your health
If you have a disease and want to know the genetic causes
For you who are an athlete and want to improve performance or reduce injuries
---
---
---
Learn more about your bacteria
---
Bacteria that live in symbiosis with you affect your health
Your diet can modulate the gut microbiota
Evaluate the effect of treatments in real time
---
---
---
Learn more about your saliva-hormones
---
Evaluate your hormone levels during the day real-time
Nutrition and lifestyle modulate hormonal imbalances
If you are an athlete or manager and you want the best from you
---
---
Find the doctor for you and try our tests
Contact a doctor, take our tests and build your path to health with him
Are you interested in our tests? Work with us
Doctors and Dietitians
Are you a doctor
specialized in dietology?
Coaching
Do you work in nutrition field,
wellness or fitness?
B2B
Do you want to develop your business idea
of precision medicine?
---
What our clients think about us
Thanks to Sbilanciati and genetic tests offered by NEXT Genomics I changed my diet, improved my body, optimized workouts and achieved excellent results!

Finally I managed to solve the continuous wounds that marked my past: in particular pulled muscles from which I could never recover. Thanks to "Massimo Paris" Centre and AiDNA genetic tests I got my personal record!

Genetic, microbiota and epigeneal tests developed by NEXT Genomics made me understand how to make the most of my physical potential and optimize my diet and training. I was followed by a serious and professional team.